The secure transfer of sensitive data in banking and capital market organisations is non-negotiable. These files usually contain extremely sensitive data. Large volumes of files need to be securely transferred to and from, as well as within the organisation.
Business data files typically contain regulatory compliance information, mortgage loan information or credit worthiness records.
Mishandling of sensitive, regulated data and unauthorised access could result in large fines, legal liability, and even loss of business.
Therefore, it is vital for data to remain securely encrypted both in transit and at rest, with a tamper-evident audit trail available to prove compliance with regulations.
File security is also essential to an organisation's business revenue; when files aren't properly transferred, revenue is lost. File transfer volumes in the financial services industry can see up to tens or hundreds of thousands of transactions a day. This requires sophisticated, easily implemented automation. The constant addition of new partners, vendors, and users to the file transfer workflow necessitates rapid, simple on-boarding.
Organisations in the financial services sector rely on secure, seamless, compliance-driven managed file transfer (MFT) solutions.
Progress MOVEit is the leading cloud and on-premises MFT solution. MOVEit offers encryption for data at rest and in transit, as well as the greatest ease of deployment, integration, scalability, and automation, without the need for expensive customisation.
Find out more about how MOVEit can address your security, automation and compliance challenges by downloading your financial services resource pack now >>>
Download your financial services resource pack
Your MOVEit financial services resource pack includes…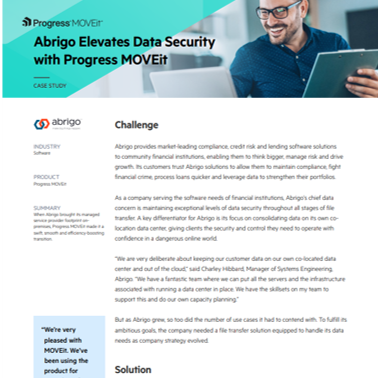 Financial services case study
See how market-leading compliance, credit risk and lending software provider, Abrigo assures data security with Progress MOVEit Automation.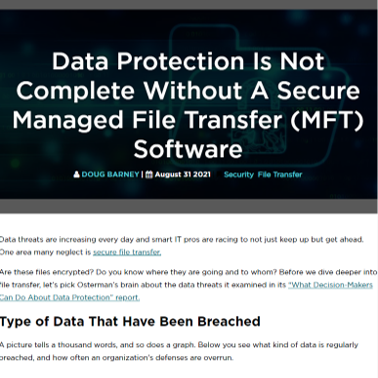 Data protection
The threat environment continues to change, making FTP systems vulnerable. Secure managed file transfer is essential to data protection.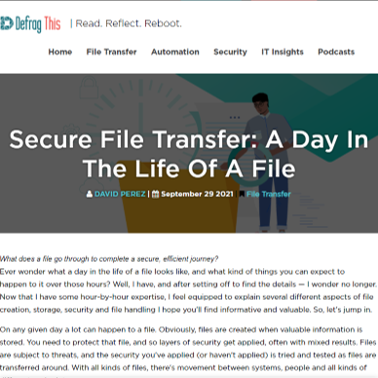 A day in the life of a file
Files are created when valuable information is stored. The resource explains several different aspects of file creation, storage, security, and file handling.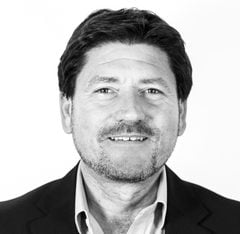 "The partnership with Pro2col is of significant importance and value to us and a great example of how partnering provides customers with the optimal solution. Not only does it provide customers with best-in-class advice, consultancy and deployment from Pro2col… It gives Progress peace of mind that our customers are in the most capable hands and provides an invaluable feedback mechanism, which we take on board in our product development…"

"Pro2col has been the highest partner level with what was Ipswitch and now Progress since 2009 (currently at Titanium level) and has successfully implemented a great many solutions, across various vertical markets, including the first dedicated cloud automation solution globally."
"Pro2col were friendly, efficient and always on hand to answer any questions we had. MOVEit was deployed smoothly, met our requirements, budget and time frame."
"I received great service in my dealings with the Pro2col account manager and technical support team."